(click name to view profile)
Brett Pukay
little about us...
"When I first asked Vince and Matt to play some rock n roll with me, I had no idea that our little group would have evolved into Blank Generation has become today," says guitarist, Chris Franklin. In fact Blank Generation started out as a small after-school rock group in room E-7 of the Morrisville High School. The group started out playing nothing more than covers. At the beginning, Chris came to Matt and Vince with the idea of playing some songs together after school each day. Why pick Matt and Vince? The answer was simple: they were the best. At age 13, Matthew Pattley had already mastered the art of catchy ska lines and energetic punk riffs. Vincent Petaccio also was also on top of his game when he entered the group. "Vince could simply play the fastest fills, and the catchiest beats" recalls Chris. After a few months had passed, the group decided to step up to the plate and write original songs. Matt Pattley was responsible for writing the catchy riff of the group's first tune, "Emotions." From then on, Matthew Pattley and Chris Franklin wrote many of the group's songs. The famous, or infamous, song, "A Walk Through the 80's," was written by Pattley and Franklin. The infamous lyrics were written by new singer, Andrew Chelius.
As more and more songs began to take shape, the group began playing shows in the large Bucks County music scene. Venues such as Sacred Grounds became frequent stops for the band. After the introduction of vocalist Andrew Chelius, the group began to focus on the music. The months that were spent writing were crucial to the development of the band's current sound. Blank Generation evolved from a straightforward punk band to a catchy, pop/punk band. Guitarist Chris Franklin began writing lyrics about life, or life without the sugar coatin "That phrase, 'life without the sugar coating,' has become a recurring theme in my lyrics. I like to write about the hardships that one may go through, as well as what it takes to overcome the bad. Songs such as 'Stop It Now' and 'Worse Kind of Addiction' became anthems for me at a time when I felt as though my world was crumbling"
After Andrew departed from the band, Brett Pukay took the role of front-man for the band. Songs such as "Take Your Own Advice" give the listeners a taste of his talented writing. Finally, it seems as though the band has found a happy mixture of personalities, as well as talent.
Blank Generation is currently working on their sophomore release, "Life Without the Sugar Coating." The band plans to keep playing shows, and to keep playing music.
~Blank Generation~
Latest News...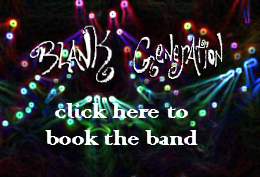 You are listening to..
Take Your Own Advice
Also check us out on...